Congratulations LaHeather Wilson
Posted on October, 28th, 2015 by phweb | Posted in articles, Press Releases | Tags: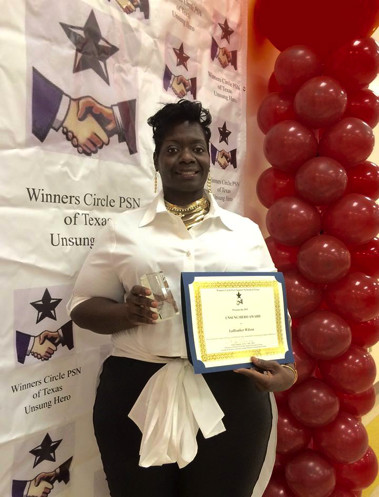 Winners Circle Unsung Hero Recipient
Please join the Texas Offenders Reentry Initiative (T.O.R.I.) as we celebrate our very own, LaHeather Wilson, on her honor of becoming a recipient of the 2015 Unsung Hero Award at the 7th Annual Winners Circle Peer Support Network of Texas Banquet. Congratulations LaHeather for your strides in reentry and successful community reintegration! You have risen above the ashes and allowed your light to shine by encouraging and empowering others in your community and beyond.
LaHeather Wilson was the 2014 Texas Offenders Reentry Initiative (T.O.R.I.) Valedictorian. An avid T.O.R.I. volunteer, LaHeather has since joined the T.O.R.I. staff and now serves as T.O.R.I.'s Intake and Referral Coordinator. She is the mother of two amazing boys, who uses her life experiences to speak to various programs, organizations, and entities about the success and need for re-entry programs. Recently, LaHeather was awarded the Dallas Foundation's Next Steps Scholarship to support her speaking engagements. In addition, LaHeather is participating in a Life Enrichment Program through the Potter's House Church entitled God Leading Ladies. According to LaHeather, her experiences with grief and the criminal justice system have enabled her to embrace change and motivated her to continue this new journey. She is a successful, productive and contributing member of society, who realizes her worth and affirms that she is not her mistakes!
The Winners Circle community is a state and national support peer network of recovering ex-offenders whose focus is to raise the foundation of living. The members participate as role models and mentors. They volunteer in the prisons and provide information to those trying to re-establish themselves after release. The Texas Department of Criminal Justice Treatment Initiative is promoting The Winners Circle as The National and State support center to start networking and helping other groups.
---